ArgenZ Zirconia
Milling Discs
Contact us for more information.
ArgenZ HT+
Strength, shades, and sizes. ArgenZ Super ArgenZ Super Translucent Plus Zirconia is the fastest-growing zirconia at Argen. This advanced material features 4-5% more translucency and 150 MPa increased strength over traditional HT zirconia.
Strength: 1250 MPa - Strong enough for almost any case
Shades: 16 VITA Classical, 3 Bleach, and 2 Light A shades
Sizes: 3 disc sizes and nine thicknesses
Translucency: 45%
Made in the USA
Buy Now
ArgenZ ST Multilayer
ArgenZ ST Multilayer Zirconia features proprietary layer blending technology for natural shade transition. No shading liquids are needed. Just glaze and go!
Translucency: 50%
Strength: 850 MPa
Five disc sizes: 12mm, 14mm, 16mm, 18mm, 20mm
16 VITA Classical Shades, 3 Bleach Shades
Made in the USA
Buy Now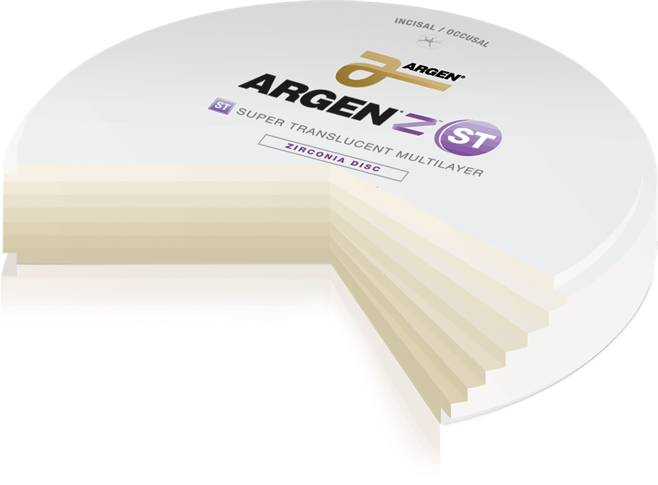 ArgenZ Anterior
ArgenZ Anterior Super Translucent Zirconia discs are an exciting alternative to lithium disilicate offering the highest translucency with optimum strength most closely mimicking the natural dentin of the tooth.
Translucency: 50%
Strength: 765 MPa
Three disc sizes; seven thicknesses
Six value based shades
Made in the USA
Buy Now
ArgenZ Ultra
ArgenZ Ultra Zirconia disc's high strength and opaque properties make it a perfect solution over implants and for posterior restorations.
Translucency: 0%
Strength: 1400 MPa
Available in white
Two disc sizes; eight thicknesses
Made in the USA
Buy Now
For more information, talk to your Argen
Sales Representative or contact us now.